3 Hard Inquiry Removal Services
Source: BadCredit.org By: Eric Bank

Posted: November 6, 2019
Hard inquiries occur when someone other than yourself accesses your credit history from any of the three nationwide credit bureaus — Experian, TransUnion, and Equifax. You must give permission before anyone can make a hard inquiry on your credit report.
Typically, lenders, banks, credit card issuers, employers, and landlords perform hard pulls of your credit history, but they must have your approval first. As hard inquiries can lower your credit score, you can protect your credit by recognizing and removing invalid hard inquiries. There are four reasons to contest a hard inquiry:
You didn't approve the inquiry.
You were not aware of the inquiry.
The number of inquiries made was greater than your expectations.
You were pressured into approving an inquiry.
You must correspond with the credit bureaus in writing if you want to remove a rogue hard inquiry. To cut through the red tape, it helps to use an approved template to request hard inquiry removals. You can do this yourself, or you can save time and effort by using a hard inquiry removal service.
Best Providers of Hard Inquiry Removal Services
The following three firms all provide hard inquiry removals as part of their overall credit repair services. These services include monitoring your credit report, analyzing items such as late payments, charge-offs, and bankruptcies, and corresponding with credit bureaus and creditors to challenge derogatory items.
Free consultation: 1-855-200-2394
Most results of any credit repair law firm
Clients saw over 9 million negative items removed from their credit reports in 2016
More than 500,000 credit repair clients helped since 2004
Cancel anytime
| Better Business Bureau | In Business Since | Monthly Cost | Reputation Score |
| --- | --- | --- | --- |
| See BBB Listing | 2004 | $89.95 | 10/10 |
The Lexington Law website greets you with offers for a free credit report consultation, negative item preview of your TransUnion credit report summary, and more. Lexington Law promises to review your credit report for mistaken negative items and to direct appropriate correspondence to the credit bureaus and your creditors.
Lexington Law offers three levels of credit repair service — aggressive, moderate, and basic — but only the first two include "Inquiry Assist", which is presumably its service for helping to remove invalid hard pulls. Prices range from $89.95 to $129.95 per month.
Free consultation: 1-855-200-2393
Average 40-point increase in Transunion credit score during first four months
Free access to your credit report summary
Three-step plan for checking, challenging and changing your credit report
Online tools to help clients track results
| Better Business Bureau | In Business Since | Monthly Cost | Reputation Score |
| --- | --- | --- | --- |
| See BBB Listing | 1997 | $99 | 9.5/10 |
When you engage CreditRepair.com to dispute errors on your credit report, you get access to a personal online dashboard, a score tracker, text and email alerts, and TransUnion credit monitoring.
For $99.95 a month plus a one-time charge of $14.99, CreditRepair.com will analyze your credit reports and communicate with your creditors and the three credit bureaus to remove incorrect information. The company claims to have filed an average of 28 challenges per client who signed up in 2018.
Free consultation: 1-888-805-4944
In business since 1989
Quick pace: Sky Blue disputes 15 items monthly, track your progress 24/7
90-Day 100% Money-Back Guarantee
Low $79 cost to get started, cancel or pause your membership anytime
| Better Business Bureau | In Business Since | Monthly Cost | Reputation Score |
| --- | --- | --- | --- |
| See BBB Listing | 1989 | $79 | 9.5/10 |
Sky Blue Credit Repair has provided its services since 1989. The company disputes questionable items on your credit report and recommends actions you can take to raise your credit score.
The cost of enrollment is $79 per month for individuals, $129 for couples. Sky Blue Credit Repair promises to dispute 15 items (5 per credit bureau) every 35 days. It also offers extra services, including debt validation, goodwill letters, cease communication letters, and debt settlement consultations, at no extra cost.
How Long Do Inquiries Stay on Your Credit Report?
Experian, Equifax, and TransUnion track hard inquiries on your credit reports for 24 months. Interestingly, FICO credit scores are only impacted once per year by the hard inquiries reported to the three bureaus. The impact of each pull wanes over time.
Typically, they lose all effect on credit scores after one year. Soft pulls also remain on your credit history for two years, but they don't affect your credit score. You can dispute hard pulls, but not soft ones.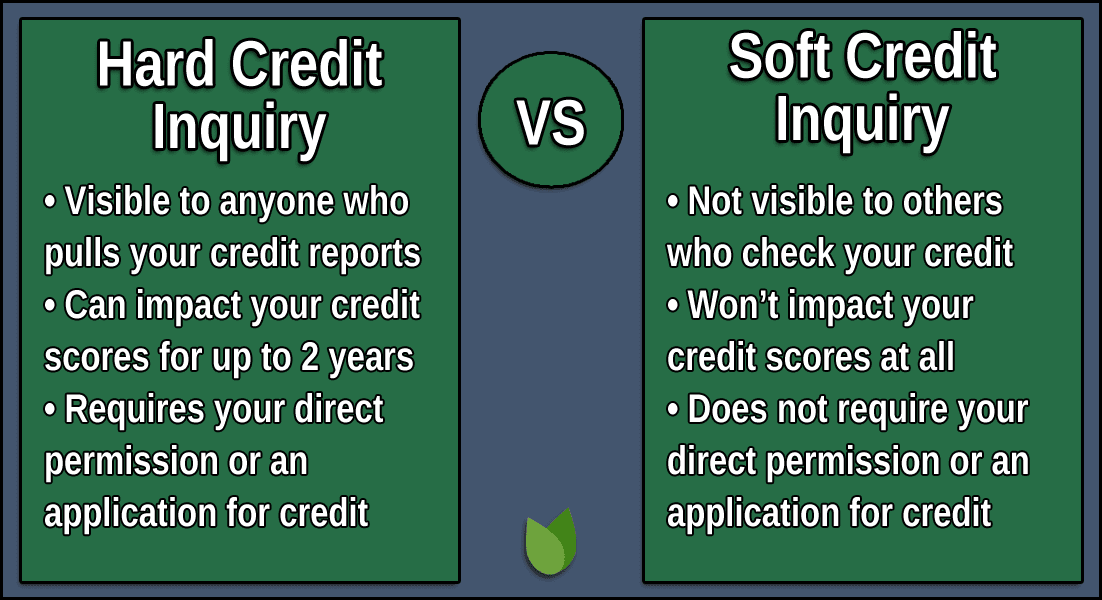 The reason that creditors look at the number and frequency of hard credit pulls is that the inquiries could indicate financial risk. For instance, multiple inquiries may be a warning sign that you have financial difficulties and/or your finances are overextended.
Before granting you a loan or line of credit, lenders will want to ascertain whether your finances are so poor that you may not be able to make full and timely payments.
You can shorten the time an inquiry remains on your credit report by winning a dispute with the credit bureau. To win the dispute, you must report that a company or individual pulled your credit without your permission or knowledge.
Alternatively, the credit pull may have been incorrectly assigned to you whereas another person received the inquiry. This underscores the importance of monitoring your credit reports for false or fraudulent activity. To remedy the problem, you must write a letter to the credit bureau asking it to remove the inquiry from your credit history.
What Happens When Hard Inquiries are Removed?
You would think removing hard inquiries from your credit report would be positive for your credit score. But keep a few facts in mind:
The negative impact of too many hard inquiries is minor, so removing them will have only a minor positive impact.
The effect will only be seen once a year. That's how often the number of hard pulls updates your score.
The negative impact of hard pulls fades quickly and disappears after one year.
If you dispute inquiries on good accounts, credit bureaus may remove the account from your report.
Requesting multiple hard pulls could put your account on fraud alert. The theory is that someone may have stolen your account information and is using it to fraudulently request new credit. You may find it harder to acquire new credit if your account is on fraud alert.
The upshot is that you should not dispute hard inquiries that you know to be correct. The cost of disputing hard inquiries, in terms of fraud alerts and dropped account reporting, may well outweigh the small benefit of having the occasional hard pull removed.
On the other hand, you may be receiving hard inquiries not attached to any account, such as ones from landlords or employers. But if you are not looking for an apartment or a new job, you have reason to investigate these hard inquiries, as they may indicate identity theft.
If excessive hard pulls point to identity theft, you should take heed and begin steps to protect your good name. Rebounding from identity theft can be daunting, but there are several organizations that offer support for identity theft. You can start by checking with government websites that address identity theft.
How Many Hard Inquiries is Considered Bad?
FICO reports that consumers with six or more hard inquiries on their credit reports can be up to eight times more likely to undergo bankruptcy than would a person with no hard pulls. The impact is greater when there are multiple hard pulls of your credit history within a short period.
But sometimes, multiple inquiries within a short time can count as a single inquiry. For example, if you are shopping around for a car loan or a home mortgage, all hard inquiries within an approximate two-week period are aggregated into a single inquiry.

Credit inquiries are classified as requests for new credit. Asking for additional credit is one of the five activities that help determine your credit score:
Payment history – 35%
Amounts owed – 30%
Length of credit history – 15%
New credit – 10%
Credit mix – 10%
New credit counts for 10% of your FICO credit score. Hard pulls are treated as requests for new credit, and so belong in this category. As such, they are not nearly as determinative of your credit score as is having limited overall debt and making payments on time.
It's important to remember that you can check your own credit report as often as you want without impacting your credit score. Such inquiries are soft pulls as long as you make the request from a credit bureau or an organization authorized to deliver you your credit report.
According to FICO, the impact of hard pulls depends on the context of how many accounts you already have by type of account, as well as the number of new accounts. When you add new accounts, you reduce your average account age and that can have a larger effect on your score.
Will Disputing an Inquiry Hurt My Credit Score?
Filing a dispute should have no effect on your credit, according to Experian. The effect of challenging an inquiry can have several results, including deleting the inquiry, upholding it, or triggering a fraud alert on your account.
If your challenge is denied, the hard pull will remain on your credit history, with no further damage to your credit account beyond that experienced when the inquiry first appeared. However, if you are denied several disputed pulls on the same account, the credit bureau may decide to no longer list the account. That can hurt your credit score in a few ways:
Having an account delisted means that it will not support your credit score. This can be problematic if you had the account for a long time. Under these circumstances, the average age of your accounts will decrease. The length of credit history is 15% of your credit score, so delisting the account can have a moderate impact on your credit score.
Multiple hard pull disputes could indicate identity theft. The credit bureau may initiate a fraud alert on your credit history, but it is more likely that you will request one. A fraud alert is a red flag that you may have suffered identity theft. This encourages third parties to take extra steps to verify your identity before granting you a loan or new credit. You can keep a fraud alert in place for up to seven years.
If you have suffered a number of unauthorized hard inquiries and strongly suspect identity theft, you can request a credit freeze. A credit freeze lets you restrict access to your credit report, thereby preventing the opening of new credit accounts. While this won't hurt your credit score, it could cause a certain amount of inconvenience. For example, you may forget that you set a credit freeze and will be turned down when you request new credit.
Nonetheless, you should feel free to dispute hard pulls that appear to be incorrect. After all, why should you experience a score drop unnecessarily?
You Have the Right to Fair and Accurate Credit Reports
Credit repair services can help you maintain the accuracy of your credit reports. You have the right to dispute mistakes, including invalid credit pulls. The three services we review here, Lexington Law, CreditRepair.com, and Sky Blue Credit Repair, all can help you dispute and correct credit history mistakes including invalid hard inquiries.
Each offers a plan for less than $100 per month, and you can cancel your subscription at any time. If you prefer the DIY lifestyle, you can dispute credit report mistakes on your own, but do your homework first!
Sign up to our Newsletter
[contact-form-7 404 "Not Found"]
(We do not share your data with anybody, and only use it for its intended purpose)